California balcony collapse: the six students who died
时间:2019-10-08
作者:仇兼
The six young people who died when a balcony they were gathered on during a party collapsed in Berkeley, , were all students aged 21 or 22; five were Irish and one held dual US-Irish citizenship.
Details are emerging of the fun-loving, talented sportsmen and women who were adored by friends and family. The five Irish citizens were in California for the summer to work on J1 visas. One had just been promoted, for her enthusiasm and energy, at a sushi restaurant in Berkeley.
Ashley Donohoe, 22, was an Irish-American citizen from Santa Rosa in Sonoma County, California. She was a student at Sonoma State University. She was a cousin of Aoife Beary, who was critically injured in the incident. Both Aoife's housemates, Eimear Walsh and Olivia Burke, were killed. Ashley's parents are believed to be from . Her high school vice-principal said: "Ashley was loved by her peers. She was definitely a leader." Donohue was also the first cousin of Olivia Burke.
Lorcán Miller, 21, was studying medicine at University College Dublin. He attended St Andrew's College in Booterstown, south Dublin, until 2012. In 2014, he took part in the UCD Medsoc's charity Strictly Come Dancing event.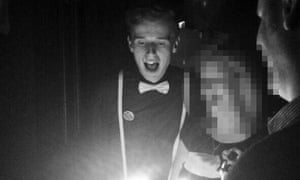 Niccolai Schuster, 21, was from Terenure, south Dublin. His parents are Graziella and John, and his brother, Alexei. He was a student at St Mary's College in the Rathmines district of the Irish capital until 2012. While at school, he travelled to Africa as party of a voluntary group called the Ghana Immersion Project. He was studying at University College Dublin.
Eoghan Culligan, 21, from Rathfarnham, south Dublin, was described as a lifelong Gaelic games fanatic. He had been a member of the Ballyboden St Enda's GAA club since childhood and played Gaelic football for its intermediate and junior teams. The GAA club paid tribute to Eoghan, saying he was very popular with his team mates. Eoghan attended St Mary's College in Rathmines until 2012. His parents are Gerry and Marie Culligan, and his brothers Andy and Stephen.
Olivia Burke, 21, from Foxrock in Dublin, attended Loreto Foxrock school until 2012. She was reported to be a student of Dun Laoghaire Institute of Art, Design and Technology. She was working at the sushi restaurant Hana Zen with her friend and housemate, Eimear Walsh, who was also killed. Burke was the first cousin of Ashley Donohue.
Eimear Walsh, 21, a University College Dublin student, was working at Hana Zen with her friend and housemate Olivia Burke, who was also killed in the incident. Eimar had one brother, Robert. Restaurant owner Alvin Louie said Eimear has started working there at the beginning of June as a hostess and had so impressed her managers with her enthusiasm that she had already been promoted to waitressing. She had worked her first day as a waitress on Monday. "They were great young kids, very enthusiastic, full of energy," he told a local newspaper, "We're all devastated."